Veronica (Ronnie) Reitter
Veronica (Ronnie) Reitter
Nation/Clan: Seneca, Wolf Clan
Media: Cornhusk work, dolls, mats, baskets, moccasins. Traditional clothing – ribbon shirts, outfits, shawls. Storyteller, Haudenosaunee Culture Educator
Artist Resume:
Ronnie is an accomplished storyteller who began by listening to Seneca Elders Virginia Snow, Marion Miller and Cayuga Elder Joyce Pemberton.
Ronnie grew up in a non-Native foster home in upstate New York. As an adult she re-connected with the Haudenosaunee community, found members of her family who still live on the Cattaraugus Reservation in western New York, and became deeply involved with learning and teaching Haudenosaunee traditional arts and storytelling. She uses her storytelling skills regularly with school children at Ganondagan State Historic Site where she works as a Seneca Interpreter. She has visited numerous schools and organizations throughout New York State and presented at the Museum of the American Indian.
Ronnie designs and sews traditional clothing or "regalia" worn by Haudenosaunee families for dance competitions and other occasions. She creates traditional ladies outfits and ribbon shirts. Her exquisite shawls, appliquéd with designs such as clan symbols or strawberry motifs, are much sought after.
Ronnie is also known for her traditional Seneca corn husk dolls. She brings her skills in sewing and designing regalia to the art of "dressing" her corn husk dolls. More recently, Ronnie has learned how to create other kinds of traditional Haudenosaunee corn husk work, such as corn husk mats, moccasins, salt bottles, tobacco baskets and containers.
Artist Statement:
The more I begin to understand where my roots come from the more I begin to understand who I am as a Seneca woman. Not growing up in the Seneca culture and way of life I have been very fortunate to be able to learn some of the traditional arts and to go back and pick up some very important pieces of my life. I use my storytelling and sewing skills as a way to educate and give back to our Seneca people. What I learn I am willing to share to those interested, especially our young people, since I view them as the future of the Seneca Nation.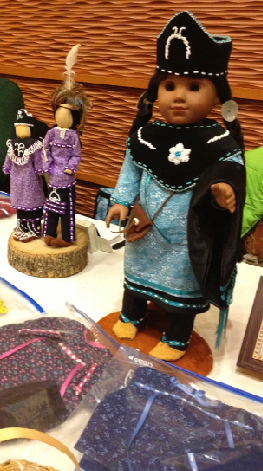 Details
First Name
- Veronica (Ronnie)
Last Name
- Reitter
Email
-
Click to Email