Kristina M. McLeod
Kristina M. McLeod
Nation/Clan: Seneca/Deer
Media: Bead work –traditional and contemporary, painting on glass, slate and canvas.
Artist Resume:
I have been involved with the Cattaraugus County Arts Council program, Routes to Art program for the past three years. I learn new bead work from my mother. I have been painting traditional native scenes, and I have work in the Seneca Allegany Casino and Seneca Nation Allegany Library. I currently have a studio in my residence and invite people to come by appointment. I also make pieces by commission.
Artist Statement:
I am an enrolled member of the Seneca Nation of Indians, and I live on the Allegany Territory, in Salamanca, NY. I am a member of the Deer Clan.I have owned KMM Native Designs for 7 years.
I work with Beads, Stone, Crystal, and Quills. I enjoy creating both traditional and modern/contemporary designs. I enjoy learning new designs and making custom creations for weddings or a special occasion.
I also enjoy painting on Christmas bulbs, slates, glass and canvas.
One of my Beaded pieces has been entered in the Southern Tier Biennial. I am the only Native American Beader entered into the Juried Art show in 2013.
My designs have been shown at the Seneca Iroquois Nation Museum in Salamanca, NY, Fenimore Art Museum in Cooperstown, NY, the Jung Center in Buffalo, NY and the Iroquois Indian Musuem in Howes Caverns.
I am a member of the Cattaraugus County Arts Council and the Native Roots Artist Guild.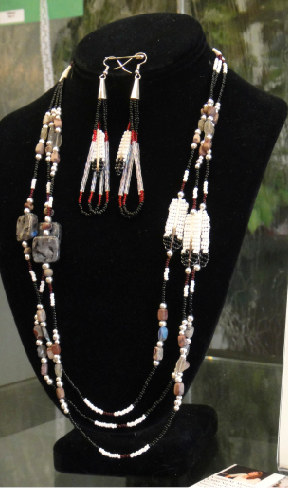 Details
First Name
- Kristina M.
Last Name
- McLeod
Phone
-
Click to Call